The modern concert guitar
---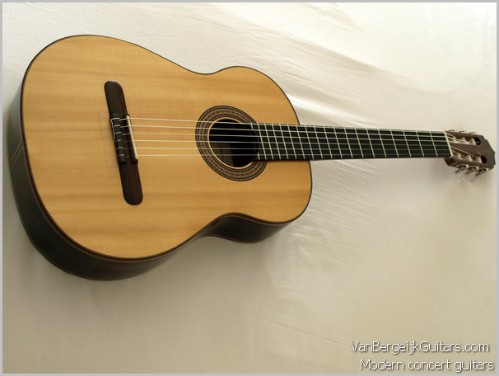 It is a great challenge to work on the sound improvement of the concert guitar. Every classical player needs a loud and powerful instrument. It is almost impossible to amplify the natural sound of the classical guitar with pickups. So I try to make the loudest guitar that is possible. That is not an easy job.
But with this instrument we are a step further.
The concept is: Use a thin top and a very stiff back and sides construction. The neck is also very stiff with carbon reinforcement. A bit unusual, but we live in 2010.
For the top you can choose cedar or spruce. In this case I used spruce.

For the back I used excellent Indian Rosewood (thank you mr. Yogi). This back construction is very stiff with the use of glass fibre and cedar.
The braces on the top are also thin and light, reinforced with carbon.

One of the loudest.
---
| | | |
| --- | --- | --- |
| | | |
| The hight quality back and sides | | The linings are maple |
Modern Concert model