Gispy guitars
During the last decades I've build many gipsy guitars. The gipsy guitar is a very characteristic instrument used in the Gipsy Jazz style. This complex guitar style is very popular in Europe, Japan and the USA. For Gipsy Jazz you need an every good gipsy guitar. Not easy to build a very good gipsy guitar. All my gipsy guitars sound very loud.
---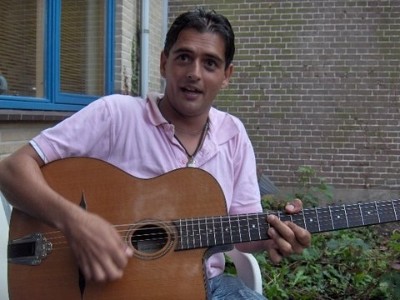 Oval Gipsy
The most popular gipsy model is the Oval Gipsy. This instrument is based on the Selmer guitar played by Django Reinhardt. I use solid woods. For the top you can choose European spruce or cedar. For the back all options are possible. Most choosen is Indian rosewood. But you can also chosen maple, zebra wood, mahogany etc. go to my woodgallery to pick the wood you like.
Jimmy Rosenberg playing my Oval Gipsy
---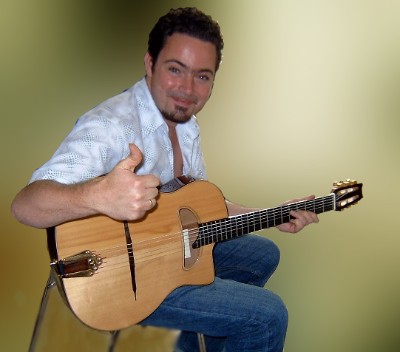 Bigsound Gipsy
The loudest Gipsy guitar is my Bigsound. All parts are constructed with the focus on sound projection. The back is a very stiff construction, no energy gets lost in the back. Also the neck is very stiff. The braces on the top are very light all to produce a very loud and full sound. .
I can build this guitar on your request.
Robin Nolan playing the bigsound
---
Vienna Gipsy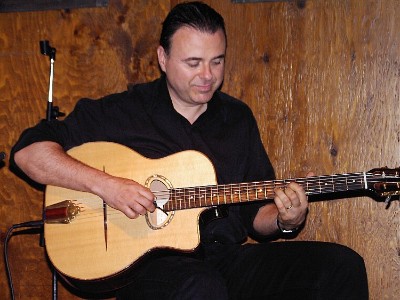 I always love to make new custom models. The Vienna guitar is one of my most interesting experiments. The first Vienna I made for Marco Vienna from Italy. Marco liked the concept from the Bigsound but with a smaller D hole. The guitar sounds very similar to the Bigsound but looks more traditional. A very loud and excellent balanced instrument.
Marco Vienna playing his Vienna
---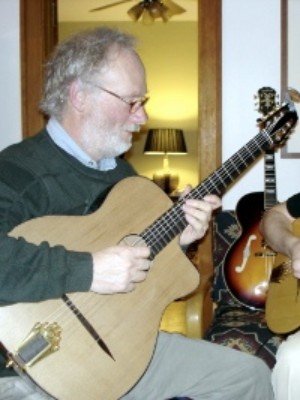 Roundhole Gipsy
Sometimes players go for the the gipsy sound, but prefer a round-hole design. Special with cedar top this concept gives you a very nice instrument to play all kind of jazz and even finger-style.
The instrument sounds very loud and is easy to play.
The scale is 65 cm.
This guitar is excellent for all kinds of acoustic guitar music, not only the traditional "manouche"
Tim Drackert playing his Roundhole gipsy
---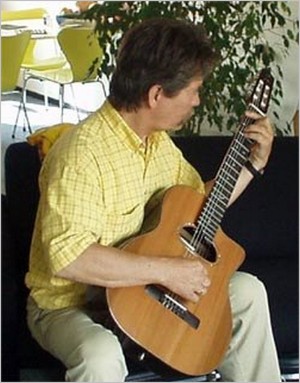 Nylon Gipsy
On request I've made original nylon gipsy guitars. This concept is very interesting for classical players, finger-style players and others. The Nylon Gipsy sounds as a classical guitar, but feels like a gipsy guitar. A cutaway to reach the highest notes and a small D hole for very loud full sound. I really love to make a custom Nylon Gipsy guitar. I can use all woods on request. I can make the neck just as the classical guitar or on request more narrow.