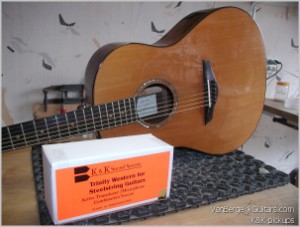 K&K pick-ups
---
The best pick-ups for acoustic guitar are the K&K pick-ups.
Pure system:
Very basic and natural sound. The principle is very simple: 2 or 3 piezo elements glued under the bridge in the guitar. These piezo's pick up the vibrations in the wood. No battery or pre amp in your guitar. Just a jack. All pure pick-ups from k&k have the same technology.
Trinity System:
Puresystem with an extra internal microphone. This gives a stereo signal. You can mix these channals with the external mixer. I recommend 75 % pickup with 25 % microphone. A very natural sound with.
I can install these pick-ups in your new custom guitar. I also install pickups in other instruments. Contact me for prices etc.