Nylon Gipsy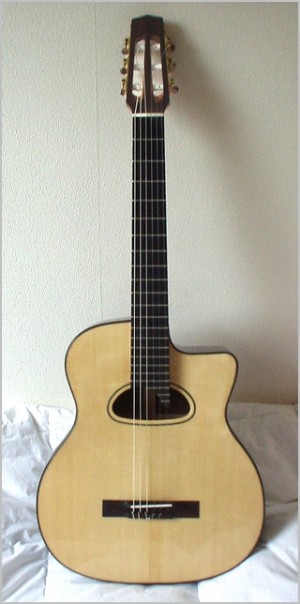 This custom made instrument was designed in detailed deliberation with the customer, Paul van der Velde. His wish was a nylon string guitar with a jazzy feeling.
The sound should be well balanced and it should have a lot of volume. We discussed various options and decided to make an instrument based on the Maccaferri Orchestral.

To increase the volume I have made a raised fingerboard so the string angel is different on the top. I used a D hole, but not as big as on the Maccaferri.
I can build your new Nylon Selmer with excellent spruce or very old fine cedar.
For the back I recommend Indian Rosewood or very special Brazilian rosewood.

The neck is like a classical guitar.
Gerrit,
I'm very happy with this instrument:
-The sound is very good in all the details.
-It's very loud, louder than any other guitar.
-The sound is solid.
-Also with the pick up the sound is very good.
Again: Good work, thank you!
Paul vd Velde
---
Watch and listen to this Youtube wonderful moment